HOLTON-ARMS ALUMNAE REUNION WEEKEND

Holton-arms school
Education not only of the mind,
but of the soul and spirit.

JESSIE MOON HOLTON (1866-1951, CO-FOUNDER)
Schedule
Friday, April 23, 2021
1971 50th Reunion Kick-Off and 3rd Grade Meet & Greet – 1:30 p.m. EDT
50th Reunion Alumnae will have a chance to reconnect around this exciting milestone and meet Holton's youngest students, the Class of 2030, with whom they will exchange letters leading up to Reunion Weekend.
1961 60th Reunion: Navigating Virtual Reunion & Classmate Catch-Up – 2:00 p.m. EDT
60th Reunion Alumnae are invited to reconnect with one another and receive more information about navigating the Virtual Reunion Weekend.
All Alumnae Cocktail Party – 7:00 p.m. EDT
Enjoy a virtual mixologist (cocktail and mocktail recipes can be found here!) and Holton swag giveaways! Opportunities for smaller breakout sessions to see faculty members and connect in small groups will be available after the 'main event' until 9:00 p.m. EDT.
Saturday, April 24, 2021
A Well-Ordered Life: A Guide to Financial Planning, Estate Planning and Ways to Give, Part 2 – 11:00 a.m. EDT
No matter in what phase of life you find yourself, power lies in your financial freedom. Have your financial and estate planning, as well as charitable and smart giving questions answered by Traci Meakem Richmond '88 and attorney Marla Roeser in Part Two of this workshop, brought to you by the Alumnae Association and Lamp of Learning Society, Holton's planned giving society. Planned gifts provide an opportunity for donors to improve financial security while also supporting the School.
Meeting ID: 912 1367 6756
Password: 917859
Children's Storytime with Holton – 11:00 a.m. EDT
An opportunity for your children or grandchildren in your family to hear stories from Holton faculty. Keep them entertained while you participate in the Financial Planning session on another device!
Meeting ID: 917 5108 8000
Passcode: 786849
Black Alumnae Union Gathering – 3:00 p.m. EDT
Join the Black Alumnae Union during their Reunion Weekend event. After a brief welcome from Adrena Ifill Blagburn '87, Chair of the Board of Trustees, BAU leadership will provide insight on the group mission and goals followed by a round of virtual trivia. Please note it is recommended to have two devices in order to participate fully in trivia. All are welcome!
Tribute and Toast to Reunion and the Class of 2021 – 5:00 p.m. EDT
Grab a glass of bubbly and join us to celebrate the 2020 and 2021 Distinguished Alumnae and "Rosie" award recipients, Reunion Classes winning the Champagne and Presidents' Cup Giving competitions, and induct the Class of 2021 into the Alumnae Association with Head of School Susanna A. Jones.
Meeting ID: 826 7551 7710
Passcode: 428052
PUNCH Student Fashion Show Premiere – 7:00 p.m. EDT
Enjoy the 24th Annual Student Fashion Show highlighting students' creativity, leadership, and entrepreneurial spirit with student-designed and sewn fashion lines. While the show will have it's premiere at 7:00 p.m. EDT, it is a pre-recorded event and will be available to watch after the premiere.
Classes ending in 1's and 6's Individual Class Parties – See Class Parties below
Reunion Committees are working hard to plan class-specific programming in honor of your special milestone reunions. Please check the Class Parties section below.
Sunday, April 25, 2021
Alumnae Art History Class with Dr. Christopher Wilson – 4:00 p.m. EDT
Join Holton's current Art History teacher Dr. Christopher Wilson for a class curated especially for alumnae.
Holton-arms school
Inveniam viam aut faciam.

I WILL FIND A WAY OR MAKE ONE.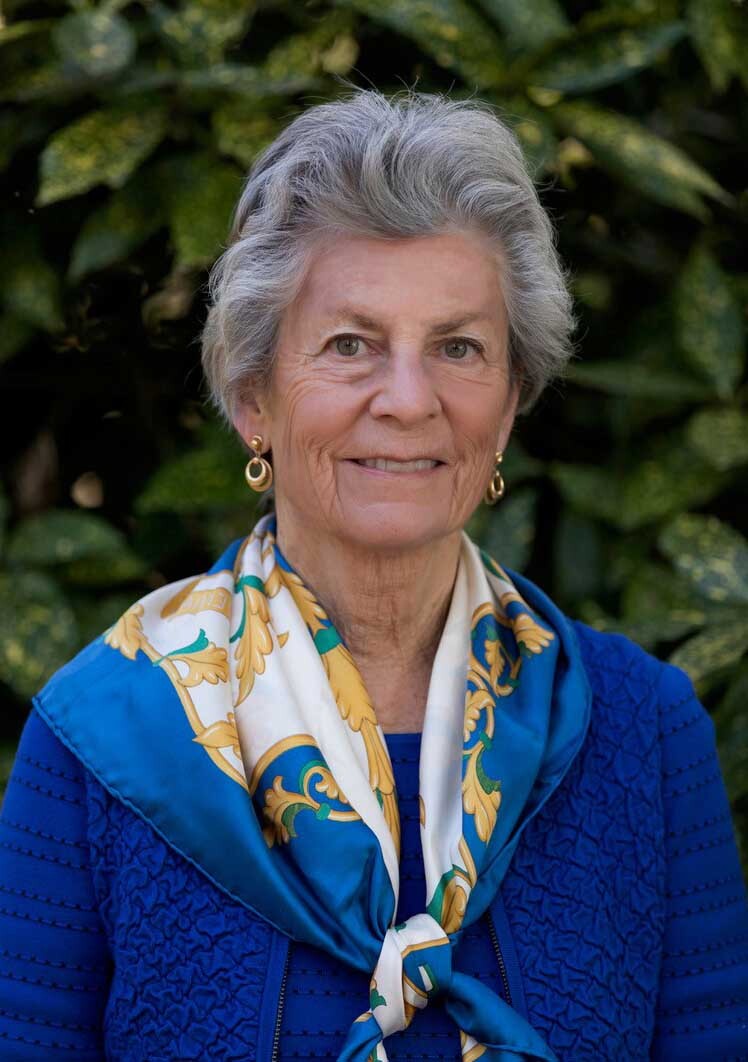 Anne Blossom Keiser '66
2021 Distinguished Alumna
A 14-year Holton student and current Trustee, Anne Keiser '66 began identifying passions early in life that evolved into a lifelong commitment to making a difference. These early experiences included using a brownie camera to observe and capture a world different than her own, discovering the beauty of two-part singing in second grade, and growing from Physical Education teacher and coach Betty Nevitt's teachable lessons on tough sports losses. These helped define her life's journey, which echoes a mantra spoken by her Sherpa friend, Mingma Norbu: "Our purpose in life is to be better citizens in our community and to the world."
After earning a degree in music from Middlebury College, Anne worked as a photo editor and photographer at the National Geographic Society. She traveled the world with crews that produced PBS documentaries on topics ranging from endangered wildlife to the accomplishments of mountaineer and explorer Sir Edmund Hillary, the first person to summit Mount Everest.
As a freelancer, Anne continued to document Hillary's life as a humanitarian; her book, Sir Edmund Hillary and the People of Everest, describes his community work building schools and hospitals in remote Himalayan villages.
She served as an advisor to Dreamline, a program that grew out of one of her Hillary school presentations, in which students, inspired by the concepts of Buddhist prayer flags and global service, share their dreams with others around the world. This program is now an international resource for teachers: dreamline.org.
Anne also documented public health projects around the world, raising awareness of health needs of indigenous people.
Her love of choral singing led her to join The Choral Arts Society of Washington in 1975, where she has also served on, and chaired, the board. The Society stresses choral music's power to unite people across their differences.
Anne's passion for tennis led her to join the board of the Washington Tennis & Education Foundation in the 1990s. There, she helped at-risk youth become life champions through tennis and academic excellence. She also served as an official photographer for both WTEF and what is now the Citi Open, and was inducted into both the WTEF/Citi Hall of Fame (2016) and Holton's Athletic Hall of Fame (2008).
Other past and present board involvements include The Middle East Institute, the Sulgrave Club, Chorus America, the Greater Himalayas Foundation, and the Smithsonian National Board. She also serves on the National Council of World Wildlife Fund US and the Smithsonian Women's Committee, and she co-chairs the Smithsonian Legacy Society with her husband, Doug Lapp. They reside in Washington, D.C.
Reunion Giving Competitions
Reunion is an occasion to reflect on the difference Holton-Arms has made in your life and to give back in support of the School. We are asking all Milestone Reunion Alumnae to consider making a gift to the 2020-2021 Holton Fund and/or a gift to Holton's endowment, ideally in the form of a 5-year commitment.
Gifts made over five years allow smaller gifts to add up quickly, and the entire amount counts toward your class' Presidents' Cup standings. The Presidents' Cup celebrates the class achieving the highest level of philanthropic leadership to Holton during a Reunion Year.
The Champagne Cup is awarded to the Reunion Class achieving the highest participation in the 2020-2021 Holton Fund by Reunion Weekend.
Tune in to Saturday's Tribute & Toast Program at 5:00 p.m. to hear the winning classes announced live!
Class Parties
See class party information below!

1961 60th Reunion Virtual Class Party
Saturday, April 24, 7:00 p.m. EDT


1961 Wine & Cheese Farewell
Sunday, April 25, 5:00 p.m. EDT


1966 55th Reunion Virtual Class Party
Saturday, April 24, 7:00 p.m. EDT


1971 50th Reunion Virtual Class Party
Saturday, April 24, 7:00 p.m. EDT


1976 45th Reunion Virtual Class Party
Friday, April 23, 5:00 to 6:30 p.m. EDT


Class of 1981 Mixology Mashup
Friday, April 23, 5:00 p.m. EDT


Behind the Scenes with 1981 Classmates
Saturday, April 24, 1:00 p.m. EDT


1981 40th Reunion Class Party Round Robin
Saturday, April 24, 8:00 p.m. EDT


Class of 1981 Until We Meet Again Regional Meetups Planning – Sunday, April 25, 2:00 p.m. EDT


1986 35th Reunion Virtual Class Party
Saturday, April 24, 7:30 p.m. EDT


1991 30th Reunion Virtual Class Party
Saturday, April 24, 7:30 p.m. EDT


1996 25th Reunion Virtual Class Party, Saturday, April 24, 7:30 p.m. EDT


2001 20th Reunion Virtual Class Party
Saturday, April 24, 8:00 p.m. EDT


2011 10th Reunion Virtual Class Party
Saturday, April 24, 8:00 p.m. EDT


2006 15th Reunion Virtual Class Party with Trivia
Saturday, April 24, 7:30 p.m. EDT


2016 5th Reunion Virtual Class Party
Friday, April 23, 5:45 p.m. EDT

Friday Cocktail Party Meet-Up Rooms
Please note these rooms will close at 9:00 p.m. EDT

Woodcock Athletic Complex
(Arts & Athletics Current Faculty)


Marriott Library
(Diversity & Global Education Current Faculty)


Granger House
(Susanna A. Jones, Head of School)


Marsha Scherbel's
Classroom


Bob Tupper's
Classroom


Lewis Theater
(Thespians/artists)


Amphitheater
(General)


Senior Lounge
(Boosters)


Brown House
(Boarders)


Centennial Garden
(General)


Eacho Lecture Hall
(Professional Networking)


Holton Pool
(HAA/athletes)

Need Help?
Send us a message and we will get back to you.
Holton-Arms School
7303 River Road, Bethesda, MD 20817
301.365.5300